FRONT LEG
IBERICO HAM
– GRAND RESERVE –
IBERIAN ESSENCE
This ham, as its name suggests, is made with the front legs of our 100% acorn-fed pigs, which are two years old and have enjoyed two acorn seasons.
A perfect salt level, along with our entirely natural curing process for over 30 months, results in a sublime product with perfect fat infiltration.
An aroma and taste that never fail to surprise.
NUTRITIONAL 
information

Paleta ibérica, front leg iberico ham (by 100G)
| KJ/KCAL | PROTEINS | FAT |
| --- | --- | --- |
| 12286/552 | 27.8 g | 27 g*Saturadas (16.34 g) |
| CARBOHYDRATES | SALT |
| --- | --- |
| 0.9 g | 4.52 g |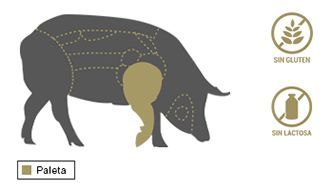 La temperatura, como con el jamón y otros embutidos, ha de ser de unos 24 grados. El corte clásico, en lonchas de un par de milímetros de grosor, permite pegar al paladar esa fina expresión de magro y grasa entrelazados.
También se puede cortar la pieza en horizontal. Así cambia el veteado y se obtienen lonchas más largas que dan mucho juego en originales recetas.
De sabor suave y persistente, hay a quien le gusta combinarlo con una base de salmorejo, saborearlo en tacos…
Experimentar el lomo ibérico de bellota es un placer que admite casi cualquier antojo creativo en la cocina.
PALETA DE BELLOTA

75% IBÉRICO


Reserve
Our 75% Iberian Acorn Front Leg Ham -Reserve- is made with our 75% Iberian pigs, which are acorn-fed for two seasons. It is then subjected to a curing process of at least 24 months, always in our natural drying sheds and cellars in Guijuelo.
Also available as boned and sliced ham formats.
PALETA DE CEBO 
DE CAMPO 

50% IBERICO
Made with our fodder-fed, field-reared Iberian pigs, which also reach 14 months of age. This ham is made with the right balance of salt and a completely natural curing process, therefore achieving -once again- distinctive properties easily appreciated in terms of appearance, aroma and taste.
Also available as boned and sliced ham formats.